THE BREAK DOWN: Jacquemus Spring 2018
In the new age of social media, the iron curtain that the fashion industry once hung around its shoulders has since disintegrated. This has allowed us to see just how a designer's collection comes together. Due to the endless and accessible fashion archive that is the Internet, every designer's best-kept secret has been uncovered: Vintage. In this series, I'll be dissecting a few contemporary collections to find their vintage influences and then revealing how you can affordably shop them.
Focus your attention on Jacquemus, the beloved brand of the fashion and insta-girl set. And no, I won't be bringing up Kendall Jenner...you're welcome :). The brand was started by Simon Porte Jacquemus, a young man who is in love with the small French town he grew up in and everything that makes France so, Française. We will be looking at his Spring 2018 collection "La Bomba," inspired by his late mother, who was and continues to be a constant reference for the brand.
The collection houses a plethora of vintage gems that are surprisingly easy to recreate, without paying a shit ton of money! First things first, let's talk about are the mini bags. The mini-trend has started to gain traction, primarily by designers and fashion people, but also because Kanye told Kim, "it's all about tiny little glasses." Jacquemus has an affinity for playing with the proportions of his accessories, and the mini bags have been a constant on his runways since the Spring 2017 show. Here at The Break, we have our own affordable investment pieces a la Edas Jewels x Ashley Isopekhi. Their aqua mini bag is reminiscent of the bright suede bags shown on La Bomba runway along with similar twinning moments in the black and brown leather versions.
Headbands were another highlight and not the Blair Waldorf of Gossip Girl kind (thank God). Sleek, muted, and simple, they hold it all back while still looking tres casual. Headbands hold a special place in Jacquemus' heart because they remind him of beauty shopping trips with his mother. Headbands are easy to find for cheap but also easy to make by recycling the fabric of vintage clothes. I usually just buy old shirts in fabrics that are comfortable and cute, cut them into long strips, and wear them to the beach. They're perfect when trying to get an even tan without burning your face.
Next up are mismatched, extra AF earrings. They've become quite popular in fashion and Jacquemus isn't kissing out on the trend. I can't be certain, but I'm pretty positive the idea comes from Simon's love of vintage markets. Vintage stores are the perfect place to pick up affordable earring options. The Break sources its own earrings and stocks an amazing array of local and international jewelry designers. The Japanese Liche and Rainforest earrings by Waif are insane and just the right amount of way too much. And if you're looking for something a bit more simple, but still gorgeous, the Knobbly nude collection will always inspire, especially around the elderly. And who doesn't love inciting sexual hysteria around old people?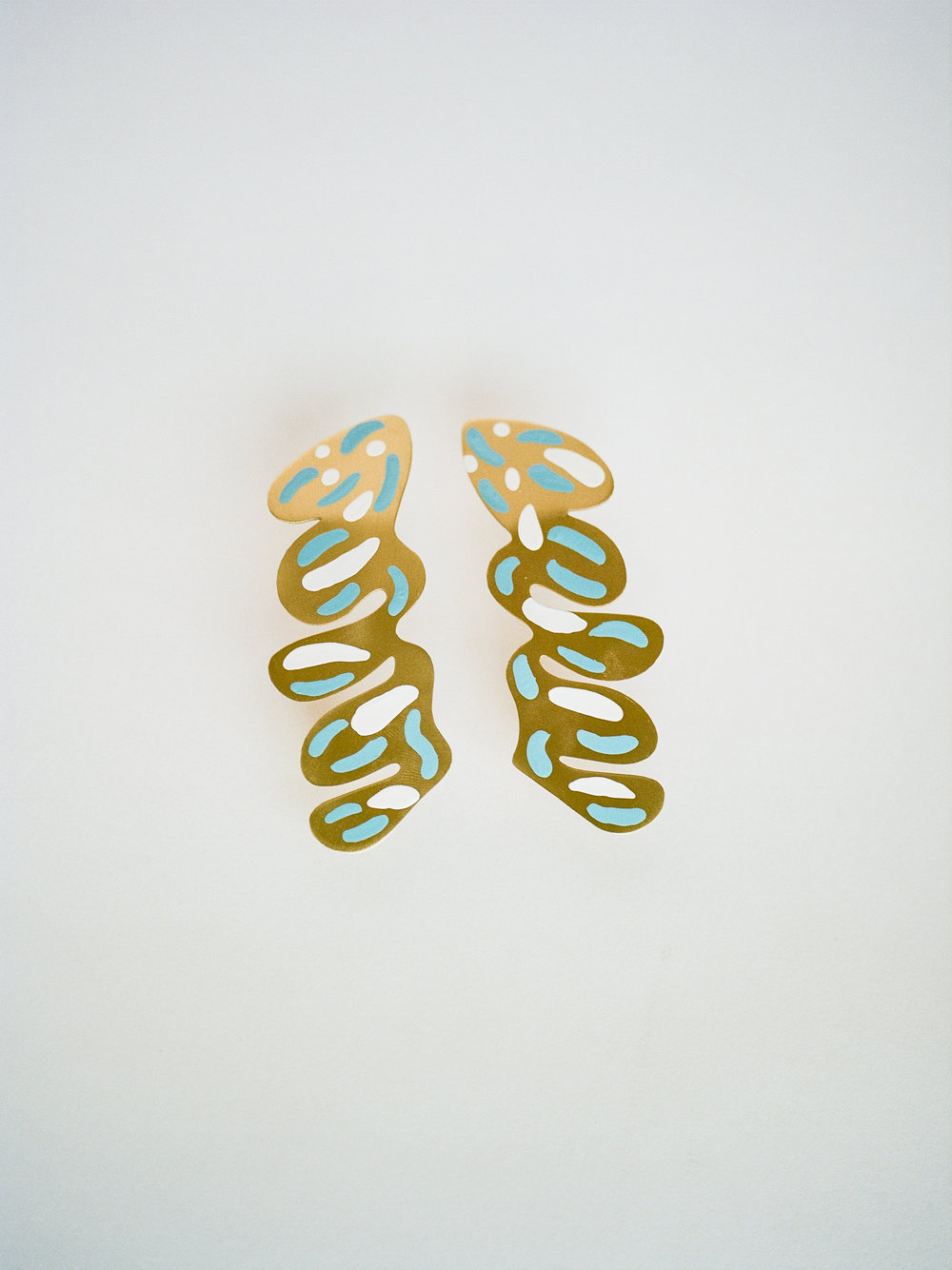 If you're looking to recreate a netting look from the show but don't know how to tie a fisherman's knot or simply don't feel the need to learn, you can always just buy a net bag. They're super cute for the summer and make you look aesthetically pleasing whilst carrying around all your instagrammable fruits and books.
The final and most beloved Jacquemus accessory from the show is obviously the oversized hat. And while they are a little bit ridic for everyday use, unless you wanna get Regina George'd by a bus because you can't see more than two feet in front of you, be my guest. But for those of you who want to live, norma straw hats are very easy to find at vintage and thrift stores for cheap. The Break, of course, is full of them during the summer months. They look good on everyone and also make an amazing room accessory. You'll get to live the French girl fantasy you've been dreaming about without the side dish of credit card debt. Essentially, everyone's a winner!